+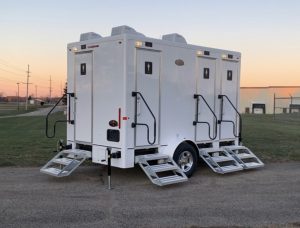 In the business world, the restroom experience often goes overlooked, but it can leave a lasting impression on guests, staff, or audiences. Our clean and well-designed mobile restrooms matter for your brand's image. Impress your guests with our elegant restroom rentals.
Our restroom rentals serve various needs, from upgrading porta-potties at events and work-sites to enhancing tourism and providing disaster relief. They are self-contained, user-friendly, and thoughtfully designed – the ideal temporary restroom solution.
Whether you're renovating your business, managing an outdoor venue, or require temporary restroom solutions for offsite workstations, our restroom rentals cater to your specific needs. We offer upgraded portable bathrooms with all the comforts of home, including flushable toilets, private stalls, sinks, and mirrors. Our units vary in size, from 2 stalls up to 10 stalls, which can accommodate small to large crowds.
If accessibility is a concern, we offer ADA-compliant restroom rentals, ensuring a positive restroom experience for all.
I Want More Information…
"*" indicates required fields