Sterling Heights Premier Provider of Wedding Tent Rentals
Your Guide to Renting a Tent for Your Sterling Heights Wedding or Party
Searching for tent rentals that meet your event's needs isn't always simple. Tents come in different styles, sizes, and layouts, so make an informed choice. Here's a guide to renting a party or wedding tent. It starts with the size of the tent. Before doing the math and pricing tents, determine the size of the tent you need for your party or wedding. While rental tents come in many dimensions, outdoor event still affords the opportunity to create a space that works best for your guests. When calculating your tent rental size, include the number of guests, the bridal party, the buffet length, and other interior items.
Assuming that each of your guests will be seated at a 60" roundtable, you'll need approximately 8 guests per 100 sq. ft. If you have long tables, then 8 guests will need at least 80 square feet to stay comfortable.
For a wedding event – do you plan to seat the bridal party at the long head table? You'll need to factor that space when making your purchasing decision. Divide the number of people that can sit a single table by four to get the number of 8′ tables you'll require to form a long head table. There should be enough room behind the tables, so the guests can move around your canopy tent. Also, make sure there's sufficient room at the front of the tables.
Sterling Heights's Largest Inventory of Tents & Canopies — Parties, Special Events, Weddings, and More!
Regarding colors, white is most common, but you can opt for clear-tops at the same price-point. Tent walls are of different types and styles. You can opt for the fabric, solids, clear or the cathedral (featuring windows). Please note that while fabric walls might be adorable, they'll not always protect from rainwater.
Maximize space and versatility.
You might be wondering if you should get a structure tent, frame tent, or a pole tent. Each of the three options comes with its advantages and disadvantages. The decision will be based on the topography, personal taste, and budget.
Usable indoors & outdoors
No interior support poles
No interior obstructed views
Versatility with location placement
More interior space
Wider variety of sizes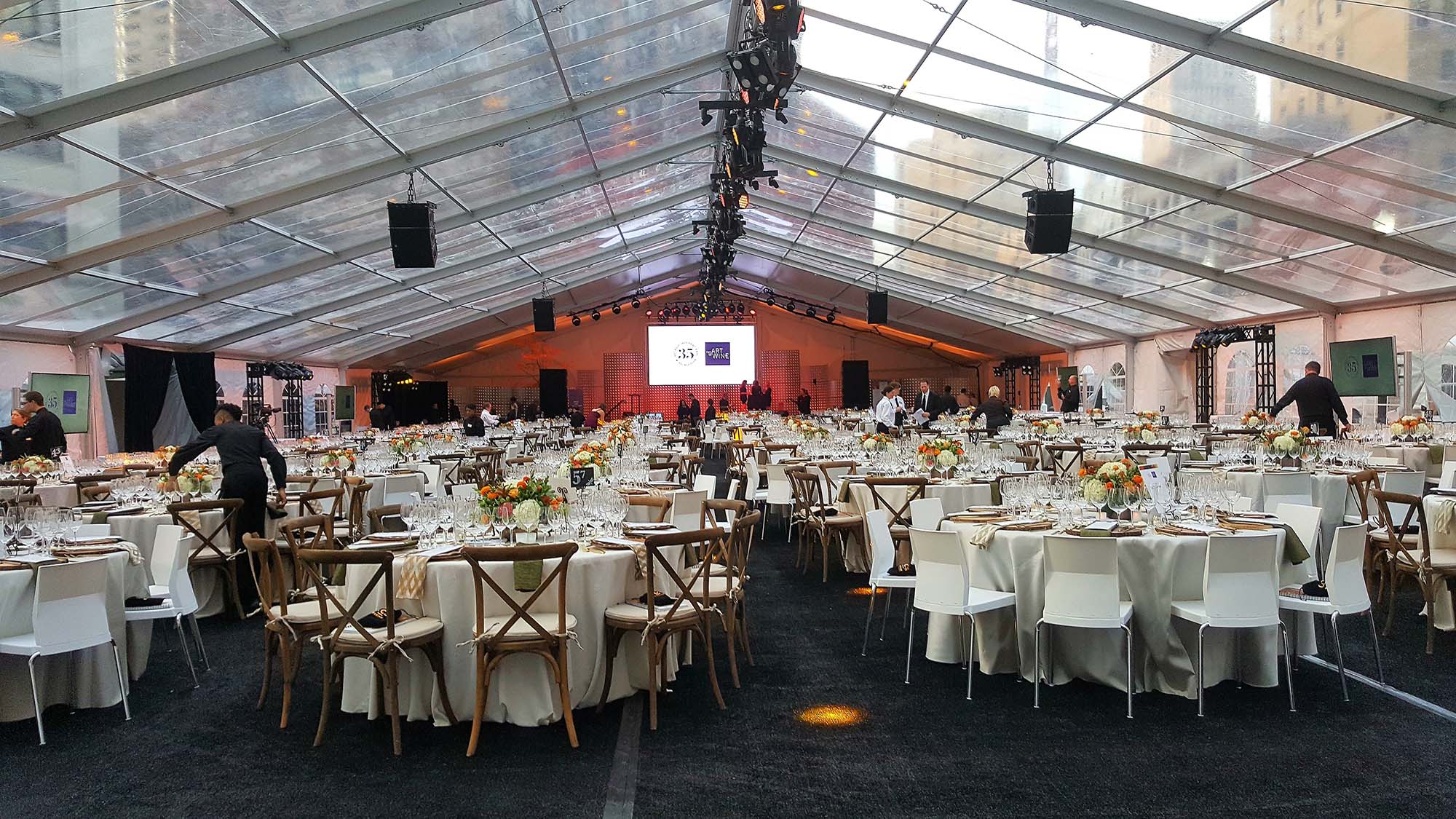 While frame tents might be less cost-effective, they're more practical. On the other hand, pole party tents are less costly and offer that impressive swoop effect. Structure tents also have their strengths and weaknesses.
Permanent and semi-permanent
Unobstructed views
Higher wind load
Complete enclosure
Strong and resilient
Year-round use
Affordable solutions at any size.
Pole tents offer ideal versatility when it comes to size, color, and budget, making them perfect for weddings, trade shows, festivals, or a casual backyard party. They're the smart choice for creating a unique atmosphere at a minimal cost, and their high peaks and variety of styles are great for creating decorative and dramatic looks.
We offer pole tents in a multitude of sizes and are constructed of interior and exterior supports with a secured staked anchoring system making them a strong and reliable tenting choice. Their high swooping peaks give them a clean line and classic look with that touch of elegance you're looking for.
Low cost
Variety of colors and styles
Ideal flexibility
Available in large sizes
Versatile and secure
Great for decorating